I first heard about Baltic amber teething necklaces when my first was a teething baby. A friend let me borrow one, but my baby hated it so we returned it. I decided to try it again with my second and searched on Etsy. I found
Baltic Healing Amber
, a new shop with reasonable prices, and I am very happy with my purchase!
Smiles
*Great prices.
*Free shipping to the U.S!
*Lots of different colored amber.
*Well made: string is knotted after every bead, made with raw amber
*Perfect length not to choke baby or allow him to eat it and can be wrapped twice around ankle instead
*Adult-sized jewelry too.
*Great customer service.
Frowns
*The amber necklace hasn't completely stopped Baby's drooling and gnawing. But every baby is different, so amber will not give the same results to everyone.
A little about the seller:
I'm from Guam and moved to the U.S. for college. I graduated, got married, and then started a family. Pretty typical, wouldn't you say. I'm a stay-at-home mom of 4 (yes, I stay pretty busy). I do love being home and having an Etsy shop that I'm very proud to call my own. :) I started making amber jewelry about a year ago. My youngest sister had just had her baby and told me about amber and its benefits. I was skeptical, like most people, until I had my baby and he started teething. Then I was desperate, like most people, and I wanted to try something natural and homeopathic. I liked that it was a natural pain reliever. I had always felt guilty giving my babies over-the-counter medicine for pain.
It was literally the end of the first day he had the necklace on that he stopped drooling (he was 3 months old then). It was like, "Miracles of miracles!" My husband and I were pretty shocked. From that day forward he has never worn a bib, and the only time I have given him OTC medicine was when he got his 4 first-year shots.
From my own experience, it's been an amazing product. I couldn't keep it just to myself!! That's when I did some research and ordered Baltic beads from Lithuania--all colors, shapes, sizes. I started making custom jewelry last November and have since joined Etsy, started a Facebook page, and am now working on my website. I love working with people (moms specifically), giving them information about amber, and just helping out in any way I can doing custom pieces for their specific needs.
One of you lucky readers will win this amber baby teething necklace!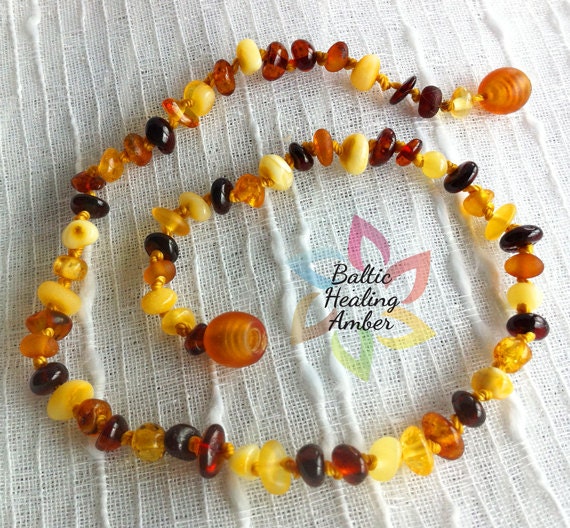 1 entry
:
Like Baltic Healing Amber on Facebook
. Leave your username.
1 entry
:
Heart Baltic Healing Amber on Etsy
. Leave your username.
1 entry
:
Follow Baltic Healing Amber on Pinterest
.
1 entry
: Pin any item to Pinterest.
1 entry
:
Like The Hand That Rocks the Cradle on Facebook
. Leave your username.
1 entry
: Follow this blog on Google Friend Connect.
1 entry
:
Enter another one of my giveaways
and tell me which one you entered.
1 entry each (4 total possible)
: Share this giveaway on Facebook, Twitter, Google+, or your blog.
Rules
Please leave a separate comment for each entry.
Please leave your email address with one of your comments so I can contact you if you win.
All entries must be submitted by 11:59 p.m. PST on Wednesday, March 19.
This giveaway is open worldwide.