Would you like to start cloth diapering but are overwhelmed with all the options and don't know where to start? This article will answer all your questions and get you on the cloth diapering path perfect for you.
Which kind?
The cheapest way to go is buying prefolds, covers, and a couple Snappis (they hold the prefolds closed). It is not the most fashionable or convenient, but definitely the most cost effective.
prefolds
Snappis
The next best is buying pocket diapers with the inserts. I used my pocket diapers as covers by putting the inserts/prefolds outside the pocket so I could reuse the diapers if they weren't soaked through or soiled, and so they didn't get stained and were easier to resell. Some companies have designed diapers meant for just switching out inserts, called AI2s (all-in-twos).
pocket diaper (pocket at top) and microfiber insert
The most expensive but easiest are AIOs (all-in-ones). They're just like disposable diapers and therefore perfect for when Daddy or a babysitter watches Baby or when out in public.
handmade AIOs
There are also fitted diapers, which are much easier than using prefolds but still require a cover.
Kissaluv fitted diaper
Which style?
I prefer snap closures to velcro because they last longer and are harder for Baby to take off. However, they are not the best for nighttime because they are loud to remove and take time to close.
Buying one-size diapers is better so you don't have to get every size. They can be more expensive up front, but save you more in the long run. However, they're always too big on newborns, so you might want to buy a few XS covers/diapers or use disposables until they fit. And I would definitely recommend using disposables the first few days until all the meconium is pooped out!
Cloth diapers also come in different fabrics. The more expensive ones use hemp, bamboo, or wool, which are more absorbent and don't retain odors.
Which brand?
Most brands are pretty much the same. Some have improved qualities, like leg gussets and hip snap closures. I've never had a problem with basic designs, though.
I didn't care for BumGenius because the velcro didn't last long. I like thick/quilted prefolds, not the cheap Gerber ones. Bummis whisper wrap diaper covers come in the perfect size for newborns, but they get wet easily. I
love
Kissaluv fitted diapers. They are so soft and don't stain easily. They are pricey though. I have a Thirsties cover I like. There are also many Etsy shops selling cloth diapers, but most are overpriced. A brand I would like to try is
Smart Snugs
. Their most expensive and appealing diaper is still reasonably priced and they offer many discounted packages and free diapers with certain orders.
What you decide to get depends on your reasons for cloth diapering. Do you want to save money or to go green? Do you want to save the most money possible or are convenience and style important factors? How often do you want to do laundry? It is important to understand your motive(s), because many women start out doing it to save money, but end up spending just as much as parents who use disposables because they buy all the cutest, most expensive cloth diapers or just keep buying more ("You can never have too many cloth diapers" you will hear a lot!). It has become a more trendy thing to do, so if you go trendy, it isn't really saving you money. Some women don't care because their reasons weren't for saving money but for going green or because cloth diapers are better for Baby. Your motivations will determine what/how much you buy.
What price?
Most brands range from $15-$25 depending on the type of diaper and whether or not they come with inserts or other extras. Off brands are cheaper and usually just as good as or better than the name brands. You can also join a deal site like
zulily.com
, which often has great deals for cute cloth diapers (pocket or AIOs).
Obviously, buying used diapers is cheaper, as long as you buy smart. I'm not willing to pay more than a certain amount per diaper, which varies on the brand and condition. I shop Craigslist (
where I got my original stash and they were all new!
) and eBay. There are a lot of new ones for really cheap on eBay too.
How many?
It really depends on what type you buy and how often you want to wash them. You can find great suggestions on cloth diaper sites (though naturally, they may exaggerate how many you need so you buy more of their products) and mommy blogs. Also, newborns go more often than older babies, so more is needed when they are young. I remember the first couple months I had to wash them almost every day since Caden peed so much and hated being wet.
What accessories?
In addition to diapers, you will need 2 or 3 wet bags. Even if you don't use cloth diapers, they're essential for when babies have blowouts in disposables or spit up all over their clothes. Also get a simple diaper pail and 2 cloth pail bags. When it's time to do laundry, just empty the bag into the wash and throw it in.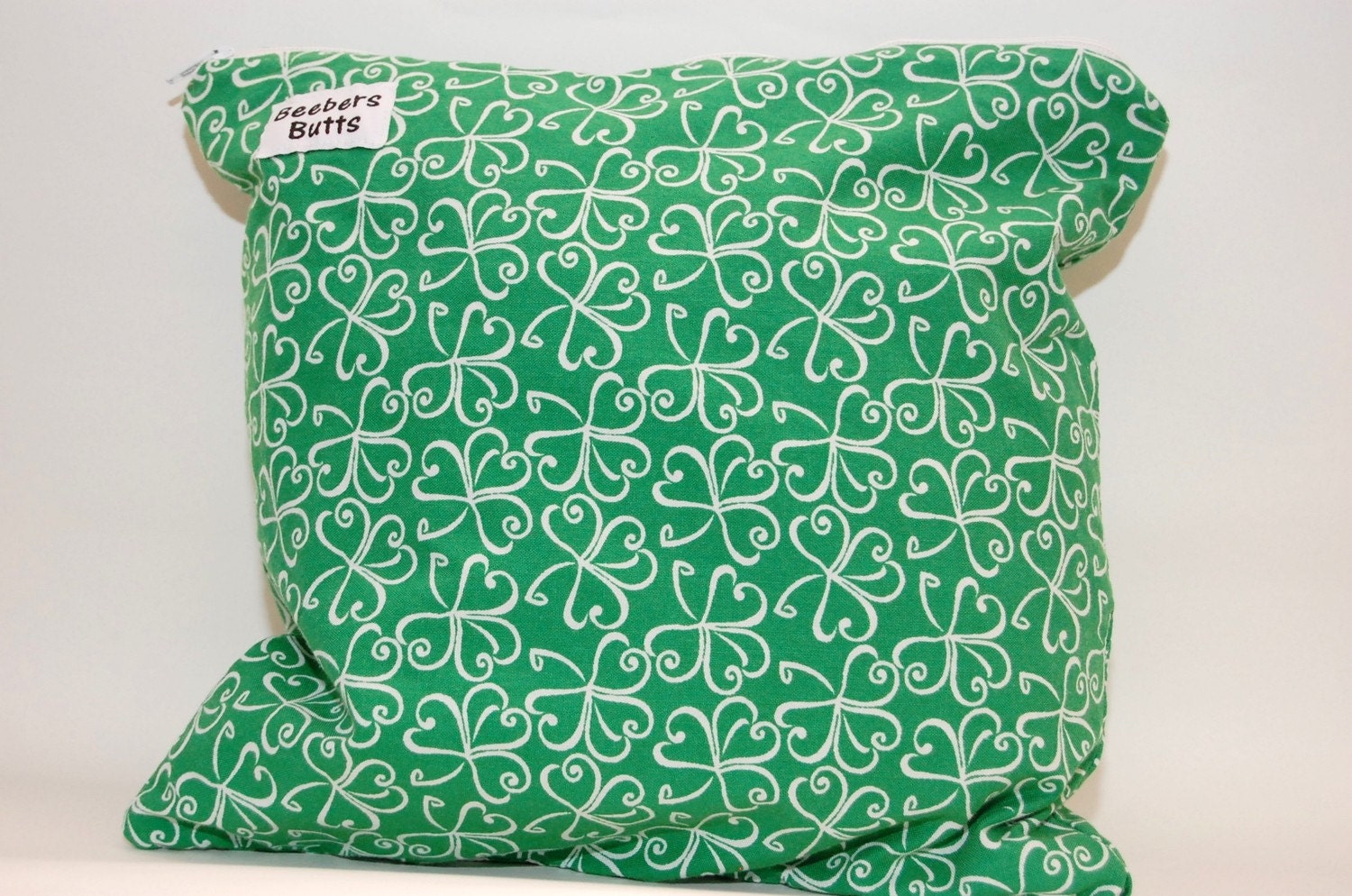 wet bag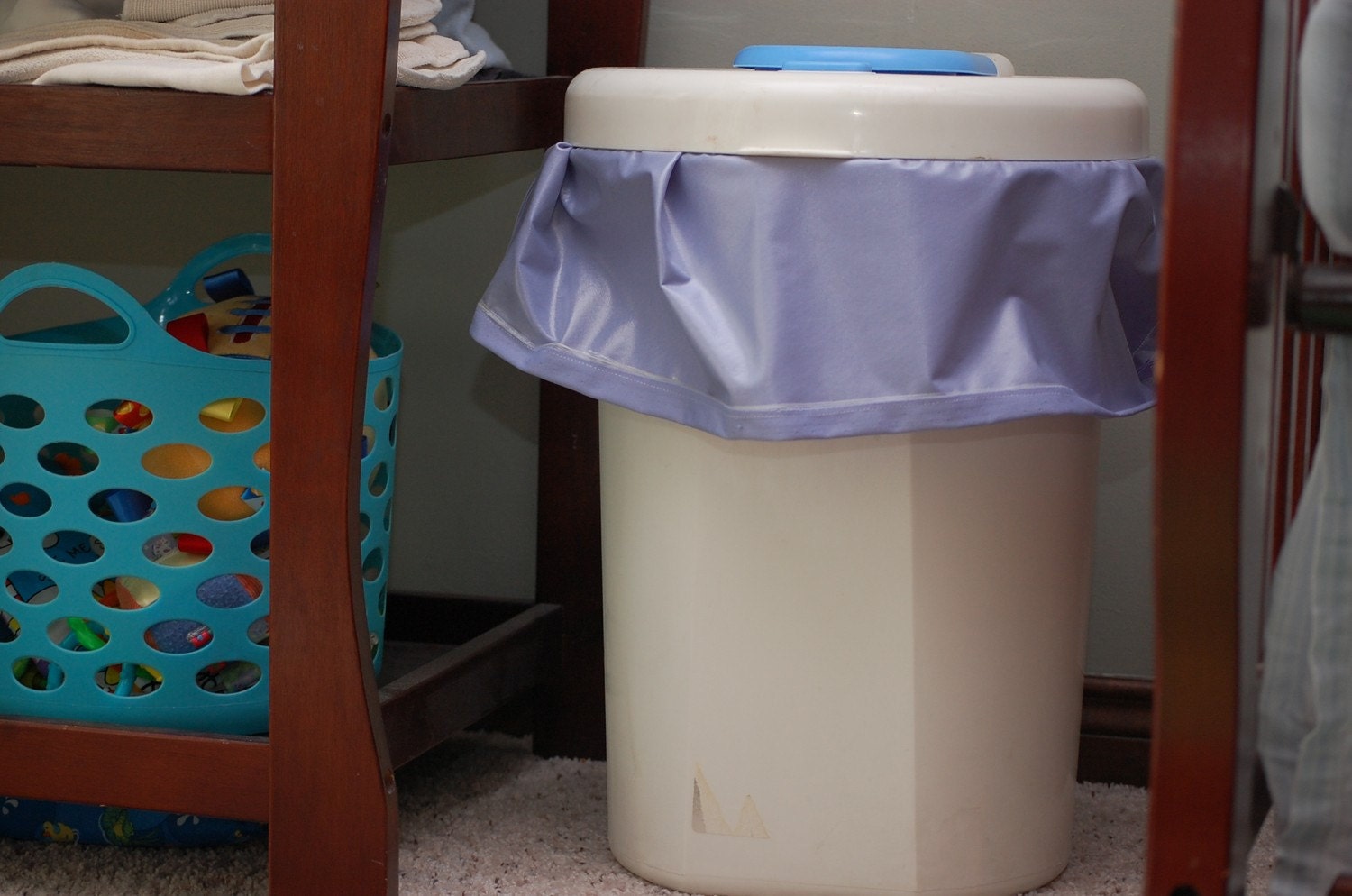 simple diaper pail with pail bag
You will need special laundry detergent for cloth diapers to keep them absorbent. The less chemicals and additives the better. There are certain brands made specifically for cloth diapers, but I just buy the free & clear biodegradable detergent from the health food store Sprouts. Cloth-diaper-safe detergent is a little more expensive than regular detergent, but since you only need to use so little, it lasts a long time!
You can also try cloth wipes if you want. I use cheap baby washcloths and a cut-up fleece shirt (fleece stays soft and doesn't stain easily). No need to buy fancy ones!
I hope this helped answer all your questions and decide how you want to proceed with your cloth diaper journey! If you have friends who use cloth diapers, ask if you can try them out to find which brands and styles you like and to make sure your baby is comfortable in cloth diapers. Good luck!